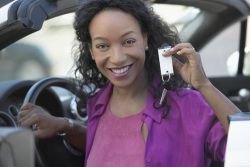 If you are fresh out of bankruptcy getting your first car loan after bankruptcy might seem a little scary at first. Fortunately, it doesn't have to be.Here at Bankruptcy Auto Financing we make applying for and being approved for an auto loan as easy as possible, even if you are looking for open bk loans. Here are some tips for having a better chance of being approved:
Obtain your credit report.

Many times after you are discharged from bankruptcy creditors or the credit bureau do not update your report. By knowing exactly what is on your credit report and fixing any mistakes you see will help ease the process along faster.

Save money for a down payment.

The more money you have to put down on a vehicle the more you are likely to be approved for the loan. The down payment will lower the cost of the car equaling a lower interest rate and monthly payment. Since your interest rate is going to be higher than it would be with a bankruptcy on your credit, a larger down payment is more helpful.

Don't set your sights to high.

If you come out of bankruptcy thinking that you are going to start rebuilding your credit with your dream car, you will be highly disappointed. Chances are you will not be approved for a $50,000 vehicle so choose a car that is a few years old, but still reliable. You will have a lower interest rate and monthly payment making it less likely to default on the loan.

Last, but not least use a special finance lender.

A special finance lender, like the ones we work with, deals specifically with bad credit auto loans. When applying for a car loan after bankruptcy you have a higher chance of being approved through a subprime lender than a "regular" lender.
What Do I Do After Completing These Steps?
Once you have completely these steps you can start the application process by filling out our online application to see if you are pre-approved. Yes, I said pre-approved. Unfortunately, there is no such thing as instant approval auto loans after bankruptcy. Once we receive your information we will it to our dealerships to see which one can get you're the best deal.
Remember we are not lawyers and cannot give legal advice. The tips disclosed in the article are just our experiences over the years and results may vary with each customer.