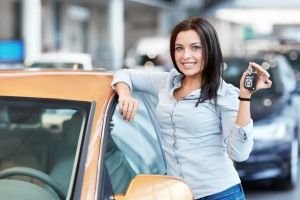 If you have filed bankruptcy and need an auto loan, chances are you won't qualify for a loan on your ideal car, and will have to buy a "right now" car. This is actually a good thing, because interest rates are going to be high until you rebuild your credit. It is possible to find a "right now" car that won't break your budget, is reliable, and that you won't be ashamed of.
Do Your Research
Before you apply for an auto loan after bankruptcy it's important to do a little bit of research. Using a site like Edmunds.com allows you to see which used cars are safe, reliable, and widely available. This lets you compare several pre-owned vehicles before you go to the dealership, and determine which ones could be right for you.
When you do go to the dealership, there's a little more research to do. Take the car for a test drive under your normal driving conditions, look for rust and damage, and get a Carfax report. Finally, before driving off the lot you should always have the car inspected by an independent mechanic who can spot unreported damage and tell you what repairs it might need in the near future.
Financing Your Next Car
Financing a car after bankruptcy isn't going to be as easy as financing a car if you have perfect credit. Most banks will turn you down, require a huge down payment, or charge very high interest rates. There are other options, such as using an online loan service provider.
Here at BankruptcyAutoFinancing.com we specialize in giving auto loans to people who have filed bankruptcy. Simply submit our quick and easy application today, and a bankruptcy loan specialist will get back to you quickly. Our network of lenders who work with bankruptcy can get you into a new-to-you car, which will also help rebuild your credit.