With Ford, GM and Toyota issuing several recalls this year, it's important to understand what recalls are, and how they affect bankruptcy auto loans. Recalls are issued to fix safety or emission problems for specific models. When a recall is issued the car maker sends out notices to car owners, but it's up to the owner to get the recall taken care of.
Safety Recalls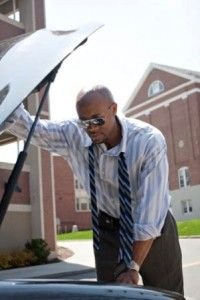 When a vehicle does not meet the federal safety standards, or has a safety-related defect, the manufacturer will issue a recall. Some of the recalls in 2013 have involved engine fires, steering problems and brake problems. Safety recalls can also involve tires, which we saw back in 2000 on Ford SUVs with Firestone tires.
The owner should always get the vehicle in as soon as possible after receiving a recall notice, to have the defective part fixed or replaced. Because this is inconvenient, many people choose to ignore safety recalls. When you apply for used car financing post-bankruptcy, you should always get a vehicle history report to check for recalls that haven't been taken care of.
Emission Recalls
Recalls can also be issued if vehicles do not meet emission standards. The Environmental Protection Agency can issue these recalls, or the car makers can issue them. Many states require that vehicles pass yearly emission tests.
While an emission recall probably won't result in injury or death if not fixed, the owner should still take it seriously. A vehicle that doesn't meet emission standards puts more pollution into the air, gets worse gas mileage and could result in costly repairs down the road. If a vehicle does not pass an emissions test it may qualify for free repairs, even if there isn't a recall.
Recalls and Bankruptcy Used Car Loans
To protect yourself from buying an unsafe car, you always want to find out about recalls when you apply for a car loan with bankruptcy. In addition to getting a vehicle history report, you can learn about safety recalls at Safercar.gov, and emission recalls at EPA.gov. If you do discover a recall that hasn't been taken care of after you buy a car, you can contact the car maker to see what steps to take.
If you're ready to take the next step toward financial freedom after bankruptcy, fill out our simple online application. Here at BankruptcyAutoFinancing.com, we can get you the financing you need quickly and easily. You'll be back on the road before you know it in a new-to-you car that you'll be proud of.
Remember, we are not lawyers and cannot give legal advice. The situations discussed are only our experiences over the years and may vary with each customer.